WPS 4
Discover the Highlights of the new WPS 4 now
WPS 4
Discover the Highlights of the new WPS 4 now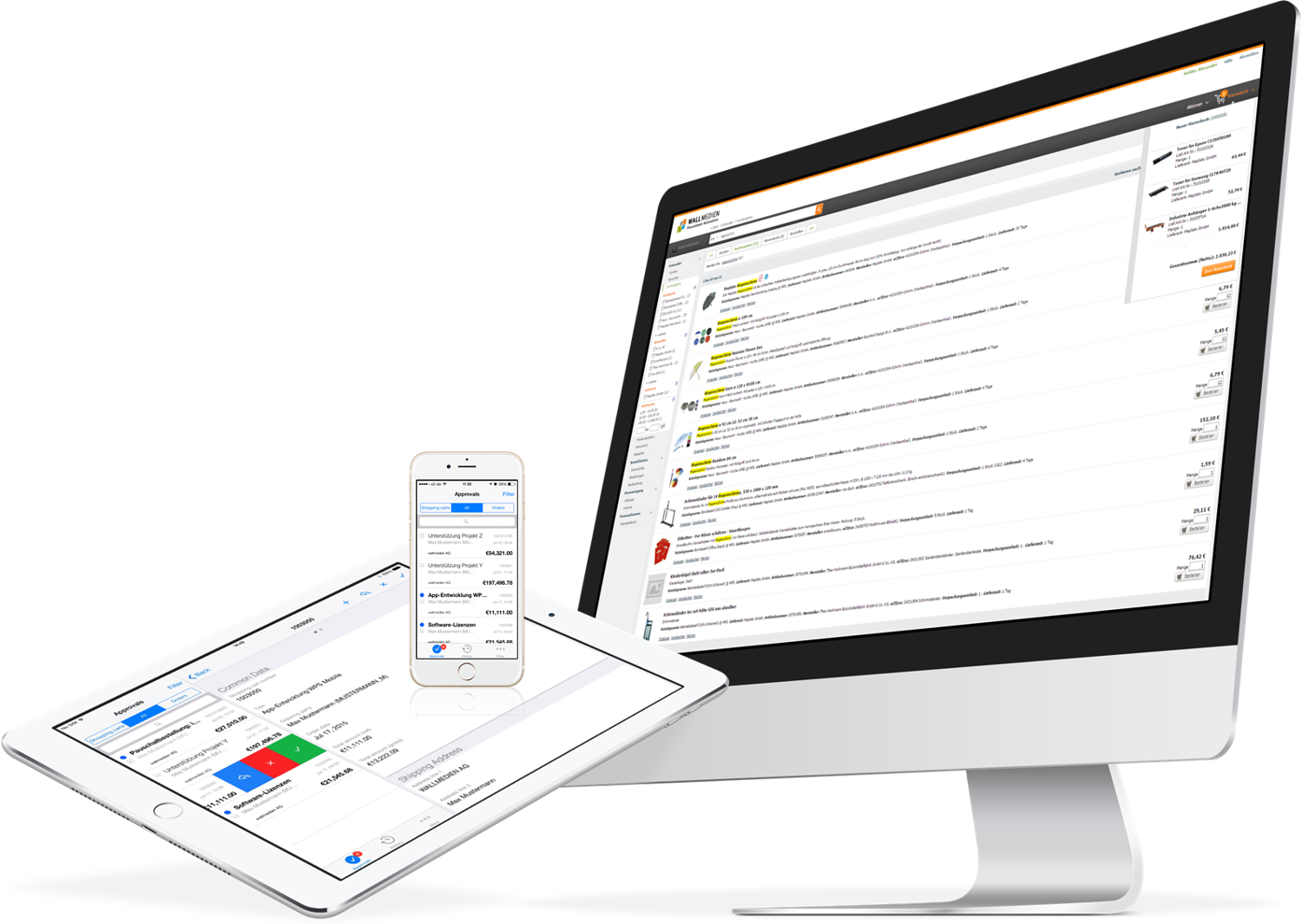 WPS 4 – Making procurement easier & more intelligent!
WPS 4 supports organizations throughout the whole purchase-to-pay process – from demand formulation to billing and payment processing. It simplifies and standardizes procurement especially of indirect goods and services. It supports faster order processing thanks to established best-practice workflows and provides valuable analysis and reporting tools based on decades of market experience.
Faster procurement processes
Reduced order process costs
Increased procurement control
Increased process transparency
Increased efficiency of order management
Highlights
New Search Engine
As the central starting point, the search is a key factor for the success and acceptance of a procurement solution, particularly in aspects of performance, quality of results and usability. The new search engine in WPS 4 combines all these requirements. The software solution easily scales even more than 20 million articles and provides unlimited search results in a very fast way, while supporting the user through familiar comfort functions from B2C purchase experiences.
Meplato Mall as a Catalog Cloud
With the ability to completely integrate the Meplato Mall in WPS, it is now possible to seamlessly connect your entire marketplace content and make it accessible in the central search results in WPS. Therefore, unnecessary and complicated OCI-anchors are past. Thus your employees have the possibility to cover their demands from a significantly greater range of products.
Integrated Service Procurement
Due to the release of WPS 4, service procurement is now a fully integrated solution component of WPS and optionally available. From demand specification to service provision acceptance – WPS 4 facilitates to cover all processes within the process chain of procurement services standardized and automatically.
Recurring Orders
WPS 4 automates the procurement of recurring subscription and leasing demands. Therefore, purchasers have the opportunity to efficiently cover all recurring orders and to utilize delivery schedules for the automatic control of goods received.
Shopping Cart Harmonization
In addition to the implementation of the new search, the revision of the shopping cart management was a key factor within the release of WPS 4. Apart from new additional features, the user interface of the shopping cart creation was constructed to be more intuitive and comprehensible.
WPS Mobile
WPS 4 supports the use of WPS mobile based on Apple´s iOS. The app is utilized for fast and user-friendly shopping cart approval and order changes according to the respective approval strategy within the procurement process.